Latest, Gossip, News, Events, Entertainment, Lifestyle, Fashion, Sports etc
Monday, 31 October 2016
The Caretaker Chairman of Zaki Local Government Area, Alhaji Muhammad Yalwaji Sakwa was killed in a fatal motor accident on Saturday, October 29th. The accident also claimed the life of his driver. Sakwa, who was sworn in alongside other caretaker chairmen in August, was buried on Sunday according to Islamic rites.
Tuesday, 25 October 2016
The murder trial of 28 year old Yewande Oyediran, the woman accused of stabbing her husband, 38 year old Oyediran Ajanaku Lowo to death at their Akobo estate home in Ibadan, Oyo state on February 2nd this year after a domestic dispute, has been scheduled for November 9th.
The Nigerian federal government has appointed a managing director of Nigeria Railway Corporation (NRC)

The Nigerian federal government has appointed Mr Fidet Edetanlen Okhiria as the managing director of Nigeria Railway Corporation (NRC), Thisday reports.

On getting this appointment, he is in full responsibility of providing the much needed leadership in the commission.
READ MORE AFTER THE CUT.................................
PDP in a statement released this morning, warned that its member, Femi Fani-Kayode must not die in detention. This comes after reports emerged yesterday that he slumped at the EFCC premises.

1. It is common knowledge that in furtherance of its campaign of attrition against members of the Peoples' Democratic Party (PDP) in the guise of an anti-corruption war, Chief Femi Fani-Kayode, former Spokesperson for the PDP Presidential Campaign Organization (PDPPCP) was arrested in the premises of the Federal High Court, Lagos.

2. His re-arrest is the latest in a series of plans designed to further harass and intimidate our members and supporters using the security and intelligence apparatus of the Nigerian State. A few days before his arrest his wife, Precious Chikwendu and their 8 month old son, Aragorn, were arrested and would have been detained but for the timely intervention of Governor Ayo Fayose of Ekiti State.
READ MORE AFTER THE CUT..............................
EFCC spokesperson, Wilson Uwujaren, has denied claims that former Minister of Aviation and spokesperson to former President Goodkuck Jonathan's campaign Organisation, Femi Fani- Kayode, slumped at their premises yesterday. Speaking with Vanguard, Uwujaren said there was no truth whatsoever in the report
"There is no truth whatsoever in the dubious and attention-seeking alarm that Fani-Kayode slumped and was revived by EFCC medical personnel. There was nothing like that as the said Fani-kayode and Obanikoro sat together and enjoyed their jokes at the first round of checks of inmates in EFCC custody on Monday night"he said.
A sex worker in Zimbabwe seized a man's car after he refused to pay for the services she rendered to him. Identified as Daphine Masango, he reportedly had to surrender his car and other valuables over the weekend so that he could figure a way out of his dilemma.
MORE AFTER THE CUT...............................
Sunday 23rd October 2016 was star actress Stephanie Linus' son 1st birthday. The young man name is Maxwell. It was a fun-filled day where lots of family members and friends came around to celebrate the joyous occasion. Some of the guests who were present at the event include: Genevieve Nnaji, Nkiru Anumudu & her husband, Tamara Eteimo, Blessing Effiong, Aisha Igbinovia and Valentine Ozigbo - MD of Transcorp Hilton. The kids especially had a lot of fun with Maxwell. 
See more photos after the cut.
A former Minister of Aviation, Femi Fani-Kayode, slumped in the custody of the Economic
and Financial Crimes Commission.
The Special Assistant to Fani-Kayode on Media, Jude Ndukwe, raised the alarm in a statement On Monday night. Ndukwe said Fani Kayode slumped in the custody of the EFCC on Saturday.
Operatives of the EFCC had last Friday re-arrested Fani-Kayode outside the premises of the Federal High Court on Oyinkan Abayomi Drive, Ikoyi, Lagos.
READ MORE AFTER THE CUT............................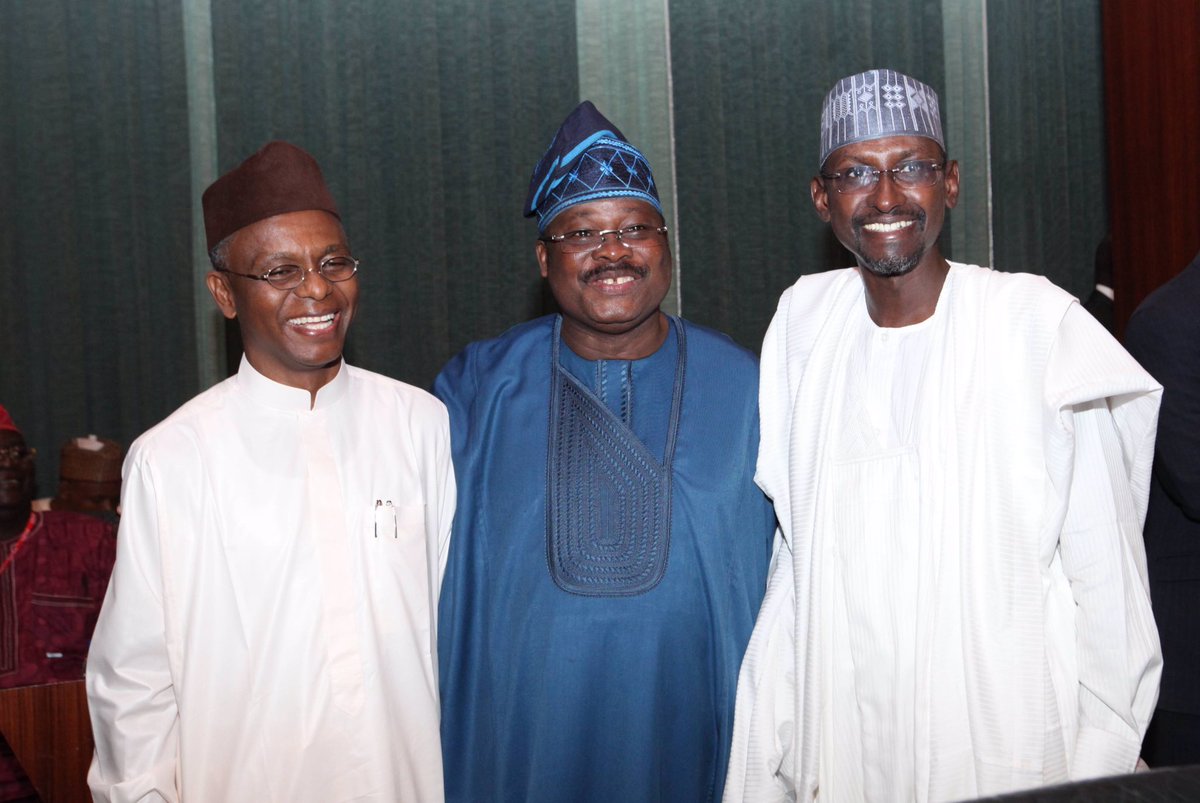 Vice President, Prof. Osinbajo presides over the National Economic Council (NEC) meeting today at the Presidential Villa, Abuja.
More photos after the cut....................
Veteran Nollywood actor Prince James Uche is suffering from renal failure, and is now blind. He's still in the hospital struggling to live. He needs N2.6million to pay his hospital bill and N11million for kidney transplant and eye surgery in India. He's been in the hospital for over a year and 7 months now.

If you want to help, please send money to: Prince James Uche - WEMA Bank - 0232151677.
It has turned out that he is not the real owner of Naijagistlive but just a web designer.

Here is a press statement from Naijagistlive.com admin.

Read it below as he exposes more things.

'The Nation' reports "Police arrest man over attempt to defraud Otedola" but couldn't state how Otedola was defrauded? How was money illegally obtained from him? What money did he lose? Where is the proof of the activities to "defraud" him?

This type of journalism is a joke as they repeatedly wrote my name as naijagistlife.com because they couldn't be bothered to click a site & do one ounce of investigation into their alleged "factual story".

Today, @instablog9ja decided to repost the story defaming Babtunde Oyedepo as a fraudster. @instablog9ja of course, sits & culls stories from other blogs all day so he added his copy & paste paragraph from 'The Nation' & added in his own slanderous comments.

FYI @instablog9ja keeps DELETING MY COMMENTS stating the truth because if he leaves my comments up, it is proof that the story he reported would be false for wrongfully accusing an innocent man as the owner of Naijagistlive when I am sitting right here. I have been active on @9jagistlive3 since early morning. These are the "blogs" you people patronize & bash me when I only speak the truth. A journalists job is to report stories & uncover their own truths to add on to the story as it develops. If he was a real journalist, he would repost my post to prove I am active & state what I am allegedly saying against corruption & wrongful arrests. Too bad he is not looking for the truth; he is happy being a form of mediocre entertainment for a few minutes. Just another form of social media controlled by the corrupt. 
READ MORE AFTER THE CUT.............................